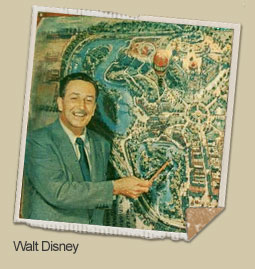 When planning a family vacation, there is only one place to go and that is Disney. Disney has parks on both the east and west coast of the United States. We are going to spend a little time talking about the west coast park, Disneyland. Walt Disney started off with a dream to make a world where the entire family could go and have the time of their lives. When Walt Disney tried to gain the financial backing for his dream of a theme park, potential investors were skeptical about putting their money behind an idea that may not make any money. To many people, this would prove to be an immovable obstacle, but not to a person like Walt Disney. Walt figured that if he could not get the financial backing that he needed from investors, the only way to make his dream become a reality is to make the capital that he needed himself. So, Walt, being the innovator that he is, began a television show that revealed his plans for his dream with each airing and that show was called Walt Disney's Disneyland.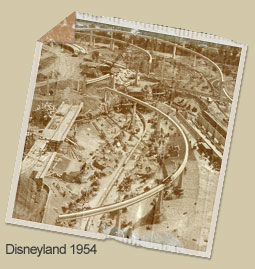 Not long after Walt was first seen on television, he gained the money that he needed to begin construction on his park. Walt knew that there were a few things that were a must for his park to be an initial success, location and price. First and foremost, Walt had to find the perfect location and the perfect property, so the search began for the perfect spot for the construction site. Soon after the search began, Walt found his site in Anaheim, California, right outside of Los Angeles. Walt broke ground on the site in July of 1954, and continued trucking on, even with some roadblocks. Opening day was on July 18, 1955, and Walt Disney gave his famous dedication:
"To all who come to this happy place: Welcome. Disneyland is your land. Here age relives fond memories of the past, and here youth may savor the challenge and promise of the future. Disneyland is dedicated to the ideals, the dreams, and the hard facts that have created America, with the hope that it will be a source of joy and inspiration to all the world." - Walt Disney 1955
From that day on, families have had a place to go to share a vacation, to create a lifetime of valuable memories and to bask in the magic that is Walt Disney's dream, Disneyland.
Some of the amazing things that you will experience when you take a trip to Disneyland include the Haunted Mansion, Pirates of the Caribbean, Splash Mountain and Mickey's Toontown. Each attraction is in its own separate land. The lands that you will walk through are Tomorrowland, Frontierland, Adventureland, Critter Country and Fantasyland. However, before you get to any of these magical lands, you will have to walk down the most famous street in the world, Main Street USA. Be sure that you make your way around to all of the fabulous attractions that Disneyland has to offer.